YES WHITE NIGHT CREAM - MOISTURIZING WHITENING DAY CREAM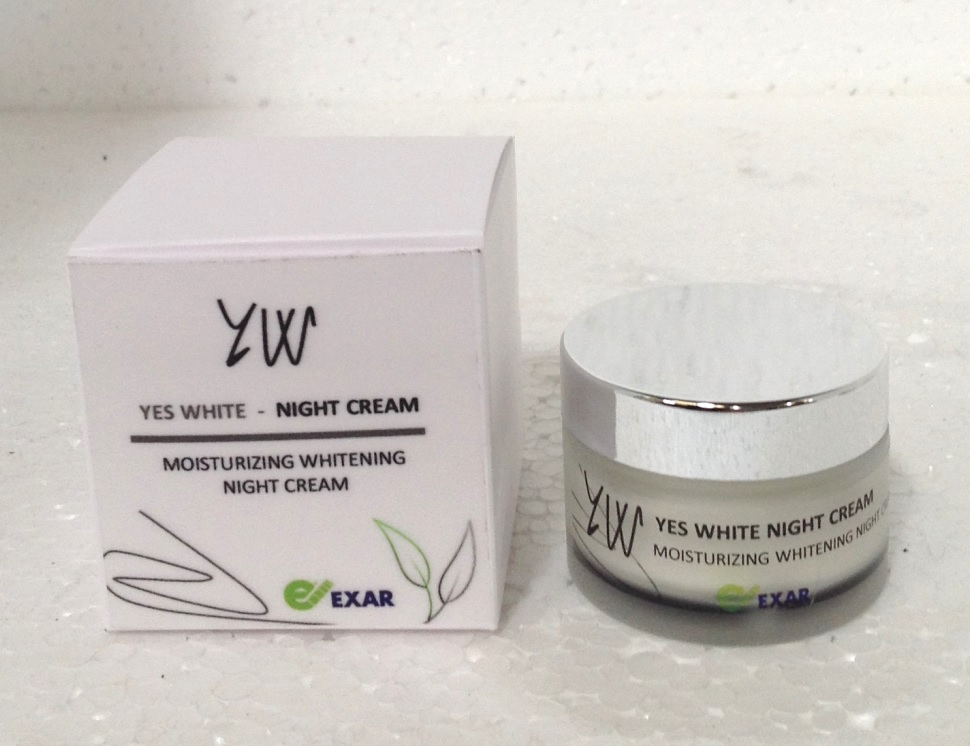 Multifunctional night cream: moisturizing enlightening. With sunscreen SPF 10.
Pleasant texture, not greasy, fast absorption.
Studied for all kinds of skin, it is rich in Kernel oil, Rice oil, Shea butter, Chamomilla and Arbutin.
It offers a professional treatment for skin ageing and skin pigmentation, gradually enlightens the skin, fights melanic spots and boosts the skin elasticity. In safety.

The YW YES WHITE Night Cream is a moisturizing enlightening night cream (50 ml jar) rich in nourishing butter and oils as well as whitening enlightening active principles.
If you want to look after skin ageing, photoageing and skin hyper pigmentation, keep on reading.
This cream is a rich formulation whose active principles are gradually released when the skin is more receptive: the night time.
The YW YES WHITE Night Cream, regularly used, helps to
enhance skin brightness
reduce melanin spots & prevent their appearance
boost the skin reparative processes
improve skin tone
fight premature ageing
minimize skin imperfections caused by melasma and sun damage
moisturize, nourish and protect the skin

Our whitening night cream pampers the skin by bringing together light, nourishment and moisturization.
The YEW WHITE night cream fits any skin type of any age thanks to its nourishing normalizing ingredients. All in safety.
No dryness, no redness, no increase in sun sensitivity.
The cream contains also a light sunscreen SPF 10 to protect your skin in the evening.

This night cream is effective and safe in skin nourishment and enlightening

Like our day cream, the YES WHITE night cream has been formulated according to the European law and the most recent studies.
- It does NOT contain pure chemical hydroquinone but arbutin, a vegetal source of natural hydroquinone. Arbutin ensures whitening enlightening action without the skin irritating side effects of pure hydroquinone.
- It is rich in nourishing antioxidant ingredients to look after all skin types.
The YES WHITE night cream is thought for every day use.
- It helps to enlighten the skin and minimize melanic spots thanks to arbutin that works by inhibiting the enzyme tyrosinase
- It helps to restore skin elasticity
- It is rich in Argania Spinosa Kernel Oil, indicated for the treatment of wrinkled dry skin, and in Shea Butter, a recognized true natural moisturizing factor (NMF) that facilitates skin healing, prevents irritation and regenerates the skin
- It helps soothening and purifying the skin thanks to Chamomilla Matricaria Flower while balancing with Lavender Oil.

The ingredients of this rich formulation

ARGANIA SPINOSA KERNEL OIL; ORYZA SATIVA BRAN OIL ; POTASSIUM PALMITOYL HYDROLIZED WHEAT PROTEIN; BUTYROSPERMUM PARKII BUTTER EXTRACT (BUTYROSPERMUM PARKII SHEA BUTTER EXTRACT); CHAMOMILLA RECUTITA FLOWER WATER; ARBUTIN; LAVANDULA ANGUSTIFOLIA (LAVENDER) OIL; CENTELLA ASIATICA LEAF EXTRACT (HYDROCOTYL EXTRACT & PROPYLENE GLYCOL); ROSA MOSCHATA OIL (MUSK ROSE OIL); LECITHYN ; RIBES NIGRUM (BLACK CURRENT) SEED OIL ; TOCOPHEROL; ASCORBYL PALMITATE.