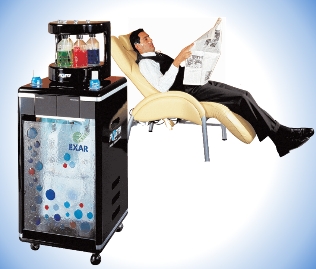 pO2rty - Breathe aroma enriched oxygen with style.
Compact and completely digitalized, Porty is our luxury oxygen bar. A system specially studied for the hotel suite that includes: an elegant oxygen concentrator holder on swivelling wheels, an Aroma Station, an oxygen concentrator and an integrated digital timer and session counter.
This portable o2bar is not only a good solution for hotels, it also ensures wellness and elegance to any location offering a relaxing break with aroma-enriched oxygen inhalation.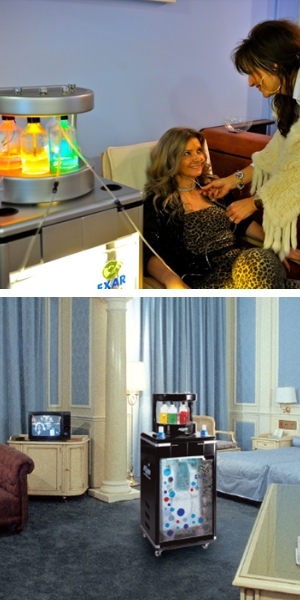 Compact and easy to move, Porty is completeley digital.
This Italian device brings together style and handiness: the timer is presetted to offer 10 minutes long oxygen aroma sessions, pushing one button you start inhaling oxygen and aroma, pushing another one you stop inhaling and switch off the oxygen concentrator at the same time.
Furthermore, Porty includes an electronic sessions counter, so that you know every time how many individuals have enjoyed an oxygen aroma session and you can add the aroma blends at the right time. And if you prefer to breathe more comfortably instead of the nasal oxygen pipe you can use the mychrophone shaped cannula.
PO2RTY - mini luxury oxygen bar - Technical Specifications
The system includes
N. 1 AROMA STATION MOD. E (for 2 users - 2 digital timer, 2 exits, 4 aroma blends).
N. 1 PORTABLE OXYGEN CONCENTRATOR HOLDER in massive wood lacquered with front panel in melted glass 8mm thick, Murano Venice style on N. 4 swivelling wheels in rubber with N. 2 Chest of Drawers – cannula holder, 1 Cooling Fan, 1 Session Counter, N. 1 Pc Board for the simultaneous starting of the system
Standard color: black bright. Other colors: silver
N.1 OXYGEN CONCENTRATOR 6LPM, oxygen purity 90-93%, oxygen pressure 0,6 bar.
N. 1 Set of 4 Aroma Bottles of 50 ml each of EXAR natural aroma blends.
N. 100 Nasal rayban-shaped cannulae, singularly enveloped, all contained in 1 box.