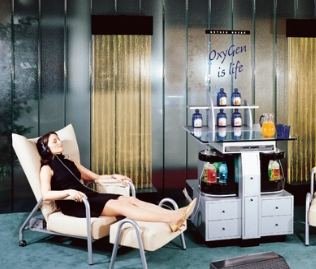 Oxygen Break: oxygen, aroma, massage and much more for your wellness.
It is a multi-sense modular system developed to help relaxation. The oxygen aroma station to enjoy aroma enriched oxygen inhalation is the heart of the system, while the chairs Oxy and Brio pamper you with a vibroacoustic musical massage and you can enjoy watching relaxing videos thanks to the integrated DVD player and the plasma video glasses. And the system includes shelves, furnishing elements, crystal glass displays, to be chosen among a wide range of optionals.
All to improve your wellness experience.

Oxygen Break is a modular oxygen system: you can build your own Oxygen Break as you like. There are 40 combinations, it's like playing with construction toys.
So many Oxygen Break combinations to offer a pleasant multi-sense stimulation that turns into relaxation. An experience of multisensory wellness.
Start from the core, the module for breathing aroma-enriched oxygen. This part of the system generates pure oxygen at 93 % , enriched of aromas, to inhale sweetly through a cannula. Oxygen is supplied by an Oxygen Generator that compresses and filters the air of the environment removing nitrogen and impurities and then delivers it to the Aroma Station where it is aroma-enriched in 4 different flavours.
The second step is choosing among different massage chairs and musical chairs, relaxing videos.

Last but not least, to make your experience more comfortable you can complete your Oxygen Break choosing among different chest of drawers, DVD holders, crystal tops, crystal glass displays and other optional etc.
You can arrange a very simple version or a highly elaborated one.



Here you have just one possible Oxygen Break combination: Oxygen break Version C.
Oxygen break Version C: sit on Oxy, the chair converting music into vibrations all around the body, wear the plasma DVD glasses, watch the relaxing dvd of natural landscapes and breathe deeply the aroma-enriched oxygen. Close to you there are the two chests of drawers you have chosen and in front of you a friend of yours in an identical position. Are you already getting relaxed?

TECHNICAL INFO – OXYGEN BREAK VERSION C
N. 1 OXYGEN CONCENTRATOR HOLDER in silver lacquered wood, including a door in tempered crystal
N. 2 AROMA STATION MOD. A, each one for 1 person, able to choose among 4 aroma blends
N. 1 OXYGEN CONCENTRATOR 6LPM N. 1 CHEST OF DRAWERS -In lacquered wood, in silver N. 1 CRYSTAL TOP C - Rectangular crystal tempered top 15mm thick – 84X53cm
N. 1 CRYSTAL GLASS DISPLAY size 47 x 74cm + small base
N. 1 Miniaturized Plasma Viewer 2D hd
N. 2 MUSICTHERAPEUTIC CHAIR MOD. OXY - Each one transforms the low tones of music into vibrations
N. 1 SMALL DVD-CD AND DVD-CD HOLDER In silver lacq. wood N. 100 monouse cannulae
Contact us to put together your Oxygen Break.