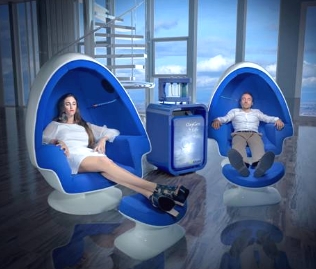 OxyFragrance Plus: the cannula free oxygen bar completed with musical chairs. What else?
This system has been developed to help you get relaxed. It let you enjoy music and aroma-enriched oxygen directly into Chromo, a wrapping comfortable egg-shaped chair with footrest.
Choose your preferred aroma blend, let the relaxing music play and make yourself comfortable into Chromo. Oxyfragrance Plus was born to help you enjoy oxygen aroma benefits in very comfortable conditions.
Choosing OxyFragrance Plus you enjoy aroma-enriched oxygen without wearing any cannula, simply adjusting the direction of the oxygen aroma sprayer (OxyFragrance) and, furthermore, you listen to music and get relaxed into the comfortable musical chair Chromo (the "Plus" component). Chromo is, in fact, an egg-shaped chair with integrated headphone and MP3 reader to enjoy listening to music while having your oxygen aroma session.
To choose a cannula-free oxygen bar ensuring comfort and music choose OxyFragrance Plus.


At the heart of the system OxyFragrance Plus.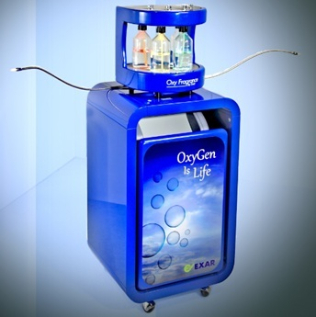 WHY OXYGEN
The majority of us live in a condition of oxygen lack due to pollution, stress, smoking, sedentary lifestyle and bad diet. This contributes to the following phenomena: we get older earlier, show a dull complexion, get more easily ill and are more tired.
With OxyFragrance thanks to the oxygen enriched air you can start recharging your batteries.
WHY AROMA
Wellness flows through the nose like emotions. Aroma awaken memories and emotions: think about the vanilla scent that cheers you up and helps good mood. (at the bottom of the page some studies references)
OxyFragrance offer pure air to enjoy emotions and feel good thanks to homely and exotic aroma, from cinnamon to ylang-ylang. To get you dream farplaces. Relax and wellness.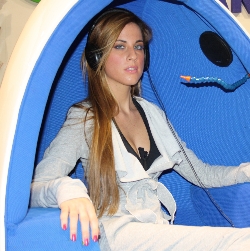 WHY MUSIC
Together with aroma blends there is no better way than music to meet our emotions. Music helps relaxation, concentration and cheers you up as well. Music with fast beats bring sharp concentration and alert thinking, while a slow tempo promotes meditation and quiet
Music has been found to bring also many phisical benefits, such as lowering blood pressure, boost natural body defenses, ease muscle tension. (at the bottom of the page some studies references)
With so many benefits it's not a surprise that music has been recognized as a great element to help our wellbeing.
That's why it couldn't be absent in OxyFragrance Plus, that's the reason of the musical chair Chromo.

Some References about Music and Aroma effects
Brentar J. E., Neuendorf K. A., & Armstrong G. B. (1994). Exposure effects and affective responses to music. Communication Monographs, 61, 161–181
Ehrlichman H., & Halpern J. N. (1988). Affect and memory: Effects of pleasant and unpleasant odors on retrieval of happy and unhappy memories. Journal of Personality and Social Psychology, 55, 769–779
Fenko A. & Loock C. (2014). The influence of ambient scent and music on patients' anxiety in a waiting room of a plastic surgeon. Health Environments Research & Design Journal, 7(3), 38–59.
Foster E., & Gamble E. A. (1906). The effects of music on thoratic breathing. The American Journal of Psychology, 17(3), 406–414.
Haun M., Mainous R. O., & Looney S. W. (2001). Effect of music on anxiety of women awaiting breast biopsy. Behavioral Medicine, 27(3), 127–132
Herz R. (2010). The emotional, cognitive, and biological basis of olfaction: Implications and considerations for scent marketing. In Krishna A. (Ed.), Sensory marketing: Research on the sensuality of products (pp. 87–108). New York, NY: Taylor and Francis Group.
Lehrner J., Eckersberger C., Walla P., Pötsch G., & Deecke L. (2000). Ambient odor of orange in a dental office reduces anxiety and improves mood in female patients. Physiology & Behavior, 71, 83–86.
Lee K. C., Chao Y. H., Yiin J. J., Chiang P. Y., & Chao Y. F. (2011). Effectiveness of different music-playing devices for reducing pre-operative anxiety: A clinical control study. International Journal of Nursing Studies, 48, 1180–1187.
Morrison M., Gan S., Dubelaar C., & Oppewal H. (2011). In-store music and aroma influences on shopper behavior and satisfaction. Journal of Business Research, 64, 558–564.