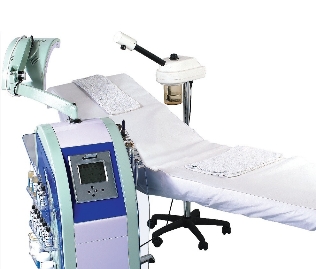 Oxy5Modes - 5 Beauty functions - Hyperbaric oxygen infusion, Oxygen Jet, Oxyaroma Inhalation, Vacuum and Photobiomodulation for face and body
Oxy5Modes is a complete professional medical oxygen system for skincare. It looks after your client/patient beauty through 5 functions: Oxygen Spray & Oxygen Infusion for hyperbaric oxygen facials & body treatments, Oxyaroma for aroma-enriched oxygen inhalation, Light (PhotoBioModulation), Vacuum(Negative pressure system, endomassage). Each function is used together with studied cosmetic preparations into protocols for wrinkles, acne, couperose, breast tone, puffy calves and feet, cellulite etc.


The OXYGEN SPRAY function let you spray on the skin oxygen together with studied herbal cosmetics, all light, nourishing, soothing and rich in antioxidants. For results that grow session after session, all achieved through soft restitutive treatments.

The OXYGEN INFUSION function drives pulsed hyperbaric oxygen together with specially formulated herbal cosmetic into the skin to help you cope with the signs of ageing and other beauty flaws.

The OXYAROMA function offers you aroma-enriched oxygen inhlation to help you get relaxed or pleasantly activated. Each aroma blend is based on pure essential oils.

The LIGHT (Photobiomodulation) function is based on the capability of 432 coloured LED lights to communicate with the skin tissue. Depending on the wavelength, each coloured light interacts with some substances present in the cell, producing cascading effects that help to enhance cells vitality, to fight acne, to increase skin tone and fight wrinkles. Last but not least, there is also the sub-function Oxygen & Light: the PBT mask host 12 oxygen outlets to let the client enjoy oxygen light spraying during the extra superluminouses diodes session.

The VACUUM function offers a deep massage that enhances the lymphatic drainage and brings blood to the surface and with the blood, new nourishment and energy to the tissue. It helps body get rid of toxins and plays a role for a better skin tone. Important to fight cellulite and puffy legs, its suction action also helps a good tissue oxygenation and the reabsorbption of excess water in the face as well.

Together Vacuum, Photobiomodulation and Oxygen-based treatments. Why?
Because the Vacuum
stimulates mechanically the microcirculation and the lymphatic drainage, making the skin more receptive to the next oxygen-based or light-based treatments.
Because Oxygen on the Skin
works as a good vasodilator: it helps to create the right conditions for cells growth, enhances the products' absorption and revitalizes the skin;
enhances the effects of photobiomodulation.
Because Photobiomodulation
increases and modulates cells metabolism, triggering cascading effects that revitalize the skin and make it more receptive to next treatments such as oxygen facials and body treatments.
Because Breathing Aroma-Enriched Oxygen
is good for us. Almost all of us live unconsciously into a light hypoxic state – lack of oxygen. And the effects are tiredness, hard to concentrate, weakened immune system, slowed metabolism, premature ageing etc. Inhaling aroma-enriched oxygen help us to recover energies and do a good prevention. An interesting complement for oxygen facials and body treatments.


Thanks to its highly professional five functions, Oxy5Modes is a very professional medical beauty oxygen systems.