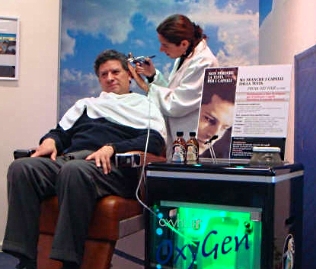 O2 Hair - the oxyhair system offering oxygen for hair care since 2006

O2 Hair system - born in 2006 and regularly updated every year with new oxygen protocols - ensures integrated hair care treatments based on oxygen (93% purity) and natural hair care products: joining the powerful action of oxygen with natural plants' stimulants, the system helps to clean the scalp, nourishes and deeply oxygenates the hair.
It helps natural hair rebirth stimulating the growth of healthy hair; it helps to revitalize weak hair damaged from bleaching, perms, dyes creating the conditions for brighter, stronger and thicker hair; it helps to normalize the sebaceous secretion so it is useful to clear hair from dandruff as well.
O2 Hair works on scalp and hair through 4 components:
Oxygen; Capelvenere shampoo; Capelvenere mud; Capelvenere lotion.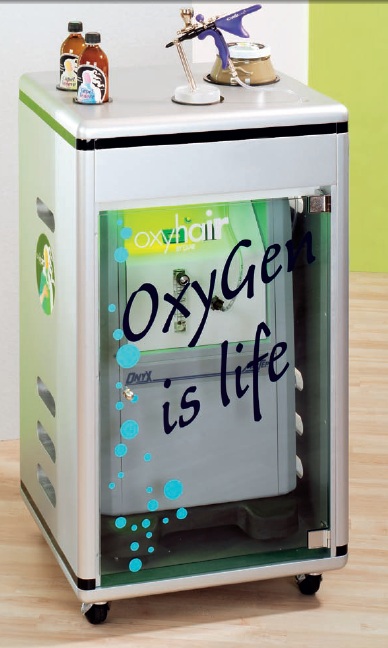 O2 Hair, oxygen and herbal products for hair care
You can work for healthier and stronger hair with O2hair: oxygen and natural preparations with a normalizing, stimulating, nourishing and fortifying action, depending on the number and frequency of the applications.
O2hair offers integrated hair care for every season of the year and of life, with the fundamental contribution of oxygen.
Each treatment is based on the fact that blood and oxygen are the great allies of hair health. Oxygen provides the fuel needed to build hair. A good local blood flow supplies to the roots all the nutrients and the raw elements needed to create the proteins that form hair. On the contrary, stress, bad habits and seborrhea are hair's enemies, causes of its weakening and recession.
O2 Hair helps to clean, nourish and oxygenate, joining the powerf of oxygen with natural plants' stimulants. It's a professional oxygen hair care device for men and women.
O2 hair helps natural hair rebirth if you are loosing hair. It helps repairing bealch damaged hair to gradually improve theis status, for brighter stronger hair. It helps normalizing sebum secretion fighting oily hair thus helping to clear hair from dandruff.

O2 Hair works directly on the scalp with its 4 components:

• Oxyg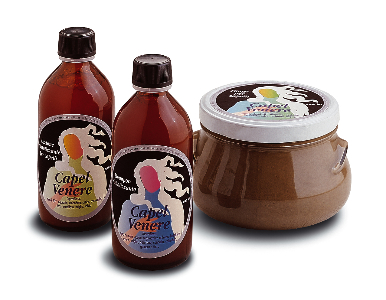 en produced by the concentrator, helps to stimulates cells' metabolism and increase blood flow on the scalp helping cell regeneration.
• Capelvenere shampoo (Aqua, Sodium Lauroyl Oat Aminoacids, Cocamidopropyl Betaine, Lauryl Glucoside, Xanthan Gum, Benzyl Alcohol , Sodium Benzoate, Potassium Sorbate, Citric Acid, Alcohol, Equisetum Arvense leaf extract, Calendula Officinalis flower extract, Juniperus Communis berries extract, Melissa Officinalis leaf extract, Rosmarinus Officinalis leaf extract, Sambucus Nigra flower extract, Thymus Vulgaris leaf extract, Lavandula hybrida essential oil, Origanum compactum essential oil) delicately washes hair, thanks to the protective and softening action of its ingredients.
• Capelvenere mud (clay, alcohol 20%, lycopodium, equisetum, calendula, sage, lavender, millet) deeply cleanses and helps to eliminate impurities from pores, allowing a strong and healthy hair growth.
• Capelvenere Classic lotion, (alcohol 20%, equisetum, calendula, nettle, chamomile, thyme, eucalyptus, millet, sage) sprayed with oxygen, helps to revitalize hair and improve natural hair growth. It also give a contribution to restore dyed & permed hair, for softer stronger hair.

O2 Hair programs
Preventive
to help to prevent hair loss and help naturally strenghtening the hair.
Complete treatment: 4 sessions in 3 months, approximately 1 every 3 weeks.
Revitalizing
For people who have started loosing hair from 3-6 months to help reducing hair loss and helps natural hair regrowth
Complete treatment: 24 sessions, 2 sessions per week.
Anti-dandruff
For people having greasy scalp or dandruff, at any stage or level, to clean and help normalizing the scalp sebum secretion.
Complete treatment: 2-3 sessions per 1 week, then maintenance sessions: 1 sessions every 3 weeks (for possibly 4 months).
NEW Intensive Restoring
To help naturally nourish, rebuild and strengthen damaged hair and worn-out hair: 20 applications, once a week.
NEW Soft Restoring
Just a gentle short treatment to pamper your hair and help to improve their moisturization. For worn-out hair also. One 10-minutes-long application every time the client enter your shop for a cut and blow-dry, a perm or a dye.

Action

• already from the first sessions dandruff starts becoming gradually less visible and keep on reducing in the next treatments. Once the scalp looks normalized, you will need just maintenance treatments to be done once every 3/4 weeks.
• after six sessions you can start seing the hair gradually looking more resilient to traction and thicker. Very often you can start noticing that the natural hair rebirth has started improving while the hair loss has been slowed down.