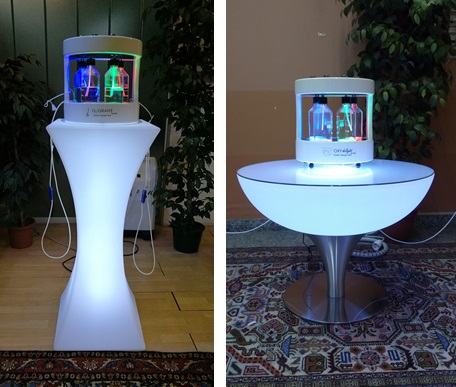 O2Giraffe and O2Delight: luminescent oxygen bars capturing the rhythms of the city.
O2GIRAFFE and OXYDELIGHT are stylish and bright oxygen aroma units to catch the attention, even into crowded locations and, fire up the city nightlife with wellness too. Both combine design and technology: they include an oxygen concentrator, taking 93% pure oxygen from the air of the room, an "aroma station" able to flavour and deliver the oxygen enriched air, and a stylish luminescent look in 6 colors. The client can choose the flavour and the intensity of the oxygen flow. Everything for an elegant contemporary user-friendly wellness corner.

O2Giraffe e O2Delight: 3 benefits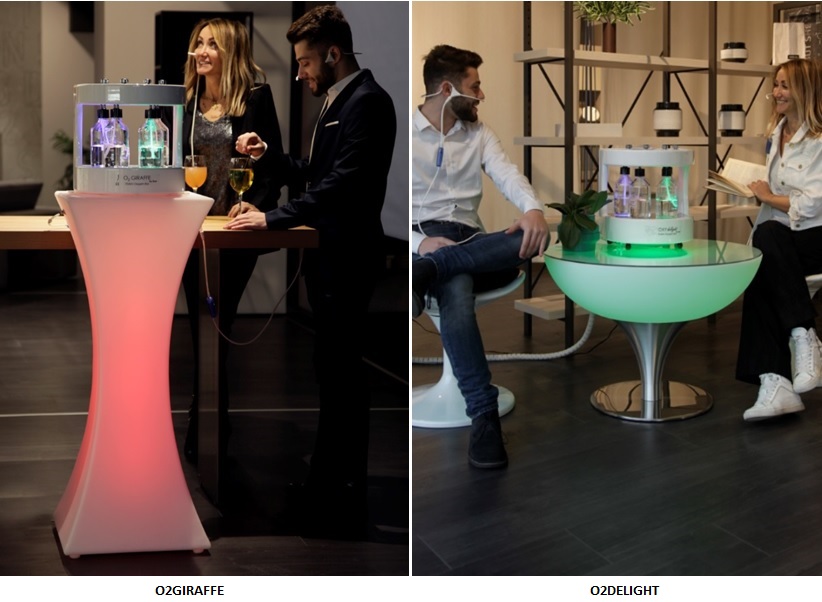 Perhaps you do not know but, you lack oxygen.
We live in a condition of oxygen deficiency due to pollution, stress, smoking, sedentary lifestyle and bad diet.
We get older too early, show a dull complexion, get easily ill. We get more free radicals and we are more tired.
Also thanks to oxygen enriched air inhalation, we can start recover naturally energy, concentration, mind and body freshness.
Wellness flows through the nose like emotions.
Aroma awaken memories and emotions: good aroma helps relaxation and wellness satisfying also our smell. O2GIRAFFE and O2DELIGHT offer oxygen enriched air with homely and exotic aroma, from cinnamon to ylang-ylang, from orange to lavender.
Relax, with beauty and style.
The beautiful design and colors of O2GIRAFFE and O2DELIGHT contribute to your wellness experience: experiencing beauty is exciting and contributes to our wellbeing.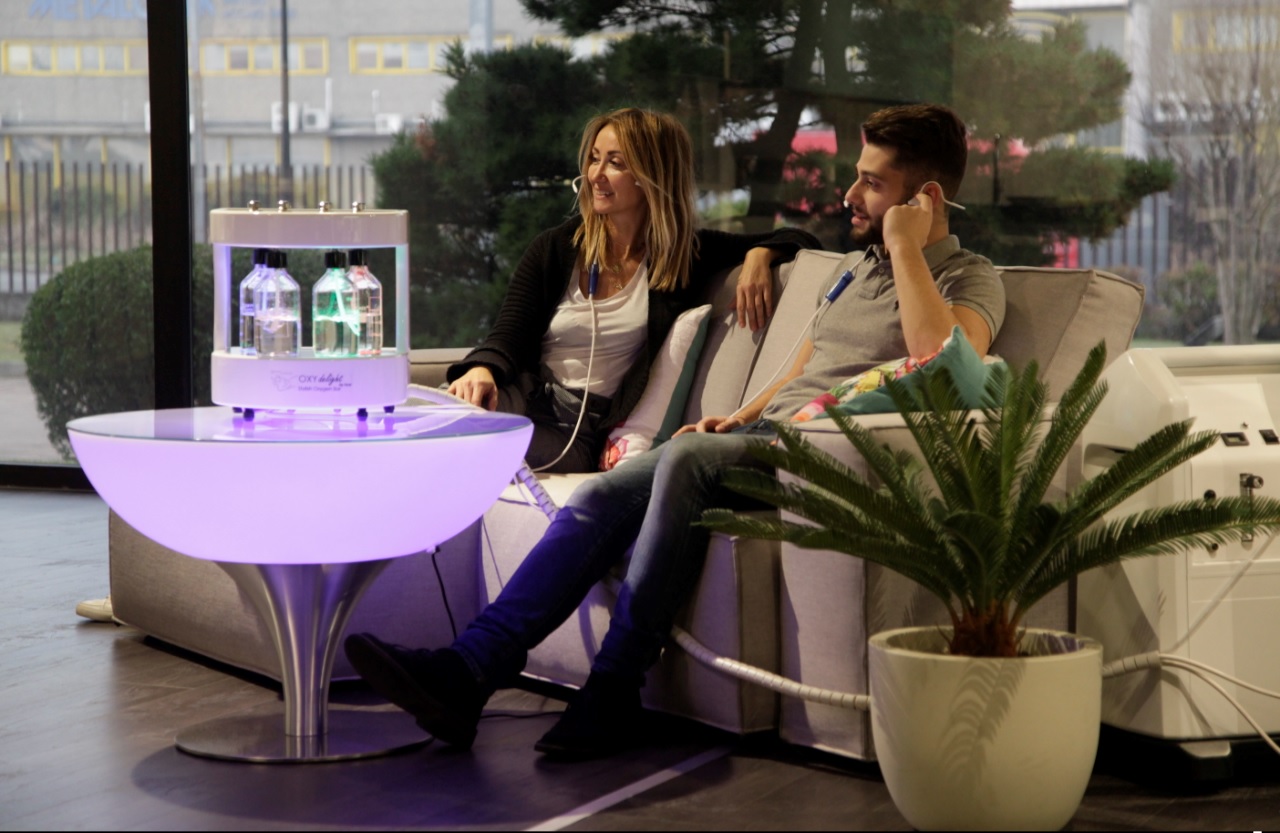 O2Giraffe and O2Delight - the right places
Bars, coffee shops, pubs, discos
Spa (swimming pool area, after-sauna area)
Gym and Slimming Centre
Private houses – living area
Hotel (hall, wellness corner)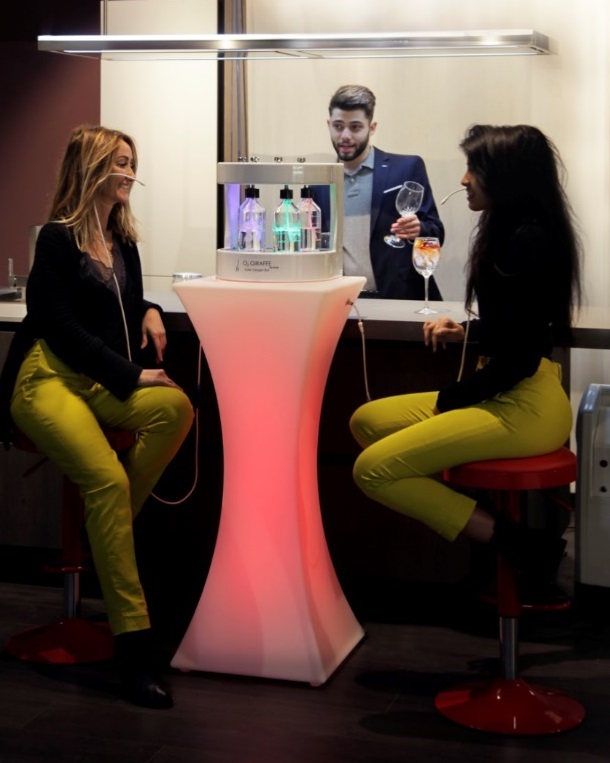 O2GIRAFFE - Luminescent Oxygen bar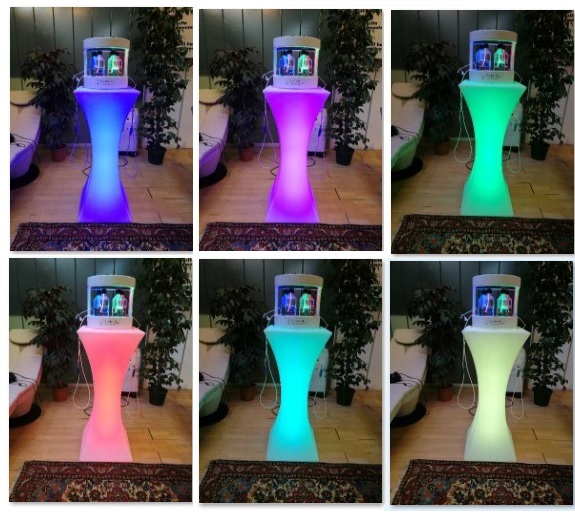 2 users - 2 exits - 2 digital timers - 4 aroma blends.
It includes:
N. 1 Structure Giraffe: made in polyethylene, luminescent in 6 colours, to select with remote control. Size 44,50 x 44,50 x 142,50 H cm (with Aroma Station); Weight 30 Kg
N. 1 Aroma Station 2 digital timers for 2 users. To be connected with the oxygen concentrator.
N. 1 Oxygen concentrator
N. 2 Microphone shaped cannulae for inhalation
N. 4 Aroma bottles: Armonia, Linea, Distense e Movi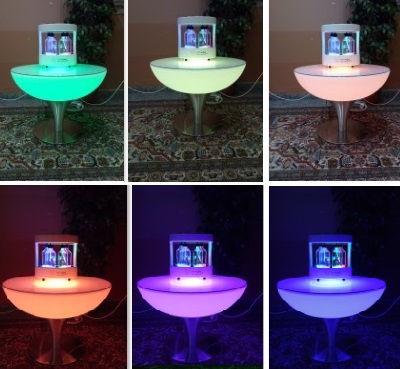 O2DELIGHT – Luminescent Oxygen bar
2 users - 2 exits - 2 digital timers - 4 aroma blends
It includes:
N. 1 Structure Delight: made in polyethylene, luminescent in 6 colours, to select with remote control. Size 80 (diameter) x 193,5 H cm (with Aroma Station); Weight 35 Kg
N. 1 Aroma Station 2 digital timers for 2 users. To be connected with the oxygen concentrator.
N. 1 Oxygen concentrator
N. 2 Microphone shaped cannulae for inhalation
N. 4 Aroma bottles: Armonia, Linea, Distense e Movi