Go on reading if you have tried an oxygen bar and thought: "that's a good idea but I don't like wearing the oxygen cannula! I cannot move and with the michrophone oxygen pipe things don't go better, I still need to check where the oxygen flow goes!"
Well, with OxyFragrance forget all: you can have your oxygen bar session without wearing any kind of cannula.
OxyFragrance is a system to enjoy oxygen-enriched air & natural aroma. A session is 10 minute long, already enough to enjoy oxygen and aroma. And you do all at your ease, without any cannula.
In OxyFragrance you simply need to adjust the "Medusa sprayers" (its flexible stainless steel arms delivering aromatized oxygen) as you like to enjoy your fresh oxygen-aroma-enriched air close to the nose, on the skin, or just in the room.
Breathe at your ease to relax and get revitalized. OxyFragrance can offer oxygen and aroma to 2 users per time. Enjoy the freedom of this comfortable oxygen bar!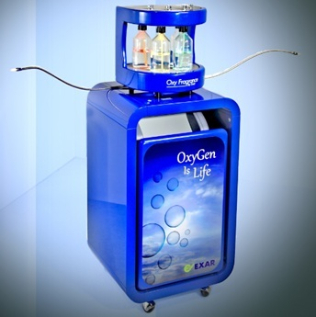 WHY OXYGEN
The majority of us do not have the proper oxigenation deficiency due to pollution, stress, smoking, sedentary lifestyle and bad diet. It is also due to oxygen lack that we get older earlier, show a dull complexion, get more easily ill, get more free radicals and become more easily tired.
With OxyFragrance thanks to the oxygen enriched air spread through the Medusa sprayers you can start improving your oxygenation, and this can help you to feel gradually recharged and more present.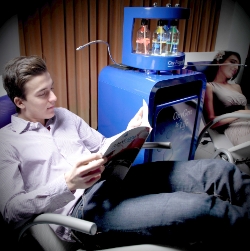 WHY AROMA
Wellness flows through the nose like emotions. Aroma can awaken memories and emotions: think about the memory of your grandmother when you feel in the air the smell of handmade biscuits, or the vanilla scent that cheers you up and helps good mood, as confirmed by many studies (check the book C. Rouby et alt (2002) "Olfaction, Taste, and Cognition").
OxyFragrance does not offer aseptic air, but pure oxygen enriched air to enjoy emotions and feel good thanks to homely and exotic aroma, from cinnamon to ylang-ylang, from orange to lavender.
Relax, with easiness. You know well how hardly you can enjoy something if you are uncomfortably seated or if your head keeps on working and you cannot enjoy the moment. Well, the aroma can help you let your thoughts go.
OxyFragrance secret? Easy like breathing. A new pleasant way to take care of yourself.