YES NATURE FRESH EYE REVITALIZER - Vegan Eye Contour Cream: it is candy to the eyes... in every sense!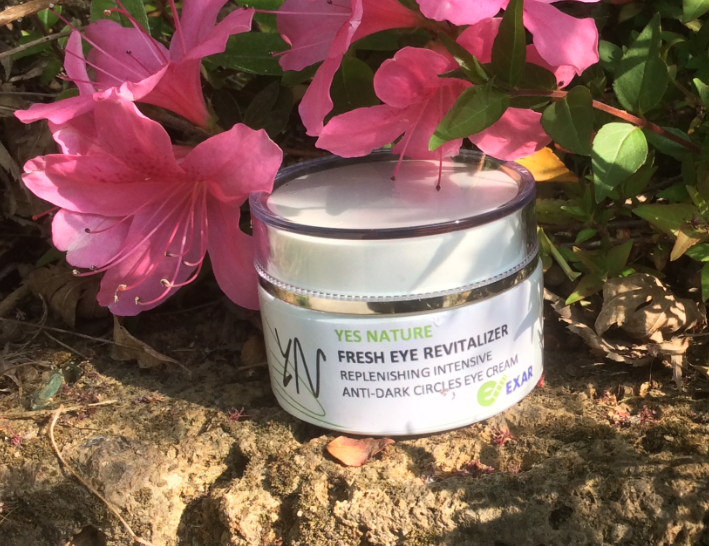 Replenishing intensive anti-dark circles eye contour balm cream for day & night usage. Very good alone, wonderful together with the Yes Nature Camellia petals face cream.
Yes Nature Fresh Eyer Revitalizer helps to firm and brighten your eye contour, while it helps to reduce bags and undereyes circles.
Its formulation is rich and simple. Elder and the red algae agar are useful to firm the skin; horsetail and fenugreek helps to improve the drainage and strengthen the capillaries reducing puffiness; European goat's rue helps to replenish the skin and fight dark circles.
It ensures a light not-oily texture.
Yes Nature Fresh Eye Revitalizer is made bringing together herbal extract well known for their beneficial properties: Elder, Horsetail, Fenugreek, European Goats' Rue, Extra Virgin Olive Oil, Lavender, Calendula and Red Algae Agar.

The replenighing intensive YES NATURE FRESH EYE REVITALIZER is really pleasing to the eye: have a look at it!
It helps to naturally rejuvenates your look in 6 ways:

it helps fighting the process by which the eye contour looses tone (antiage action)
it helps improving local microcirculatioin (anti puffiness action)
it helps replenishing the skin (anti dark circles action).

it moisturizes and nourishes the eye area
it exerts a natural antioxidant action to help you slow down the eye contour ageing process
it fits sensitive skin thanks to its gentle organic formulation
TIPS FOR USAGE: apply morning and evening on your cleansed eye contour. For a fresher look without shadows from the first applications.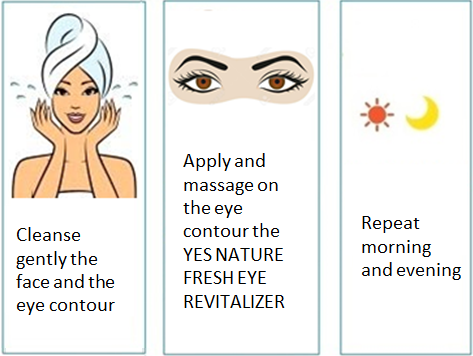 Our eye contour cream is additive free and chemical preservative free. It doesn't contain parabens, petroleum jellies, chemical colorants, chemical emulsifiers. Furthermore, it is totally glycerin free. Together with the Yes Nature face cream the Yes Nature Fresh Eye Revitalizer represents a Yes to Beauty and Nature as well.

In our eye contour cream three precious herbal extracts

The secret behind Yes Nature Fresh Eye Revitalizer consists in three valuable organic ingredients: Sambucus nigra (Black elder) flower extract, Trigonella foenum graecum (fenugreek) seed extract and Equisetum arvense (horsetail) extract.
The extract of Black Elder flowers helps reducing the synthesis of Vascular Endothelial Growth Factor (VEGF), one of the major causes of puffiness and dark circles. The flowers of this plant contain flavonoids that increase micro-circulation to reduce puffiness and phenolic acids that protect skin cells from the damaging effects of oxidation helping the skin repairing process and the blood vessels strengthening. For all these reasons Black eleder is important to fight free radicals slowing down skin ageing.
The Fenugreek seeds help liquids drainage, reducing puffiness and redness. They are rich in vitamin C, potassium and proteins that help lighten dark circles under the eyes. Furthermore, they can help balancing the pH level of your skin, that is essential to maintain a nice skin tone.
The Horsetail has been known since ancient times, the Sumerian used it to cure edemas and Galen appreciated its healing properties. This plant is rich in silicon, an essential mineral for the strength of blood vessels and skin. Horsetail helps strengthen the connective tissues and reduce wrinkles appearance: it helps promoting collagen formation, strengthening (collagen is mainly made from silicon) the skin texture and elasticity. Furthermore, it is a natural mine of calcium, magnesium, zinc, potassium, selenium, vitamins B1, B2 and B3, vitamin C and bioflavonoids, ensuring a powerful antioxidant action.
The synergic action of these three plants, together with the cosmetic properties ensured by Extra Virgin Olive Olive, Lavander and Calendula, makes the Yes Nature Fresh Eye Revitalizer a professional eye contour cream. Truly organic.

What about the Fresh Eye Revitalizer formulation? A truly natural recipe

INCI List: Aqua/ Water, Olea europea (olive) fruit extract, Alcohol (distilled from Organic wheat), Sambucus nigra (elder) flower extract, Trigonella foenum graecum (fenugreek) seed extract, Equisetum arvense (horsetail) extract, Lavandula angustifolia (lavender) flower extract, Calendula officinalis (marigold) flower extract, Gelidium amansii (Agar).
References
Andrzej Sidor, Anna Gramza-Michałowska (2015), Advanced research on the antioxidant and health benefit of elderberry (Sambucus nigra) in food – a review, In Journal of Functional Foods, Volume 18, Part B, 2015, Pages 941-958, ISSN 1756-4646
Sajad Ahmad Wani, Pradyuman Kumar (2016), Fenugreek: A review on its nutraceutical properties and utilization in various food products, In Journal of the Saudi Society of Agricultural Sciences, 2016, , ISSN 1658-077X
Sandhu, N. S., Kaur, S. A. R. A. B. J. I. T., & Chopra, D. I. V. N. E. E. T. (2010). Equisetum arvense: pharmacology and phytochemistry–a review. Asian Journal of Pharmaceutical and Clinical Research, 3(3), 146-150.