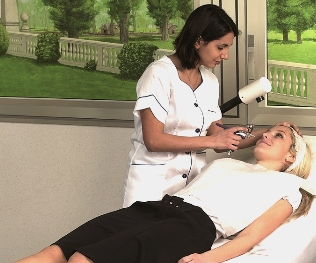 Mini Oxy Skin - Portable oxygen jet device for oxygen facials and body treatments
Mini Oxy Skin is as small as a bag (measures 37,5 x 21 x 33 cm, weight 8,5 kg) but, able to ensure great oxygen facials and body treatments. So compact and portable, it hosts an oxygen concentrator able to develop till 5 litres oxygen per minute, delivering 85% pure oxygen for oxygen facials and body treatment. All to take care of your client by using a compact oxygen beauty device.
Thanks to the Oxy Gun spray nozzle, that let you nebulize on the skin oxygen together with specific natural cosmetics, Mini Oxy Skin is a small professional oxygen jet machine for oxygen facials and oxygen body treatments.

Technology and comfort together in Mini Oxy Skin.
Developed for beauty centres, beauty farms and beauticians, this small oxygen beauty device can fit any cabin, even the smallest one, and can be easily moved from one room to another. You can even move it every day by car without any problem.
Together with the Exar studied-for-oxygen herbal cosmetics, the Jaline cocktails and the Roseline gels, Mini Oxy Skin helps to work on specific skin problems such as wrinkles, acne rosacea, greasy skin, dull skin, heavy calves & feet.