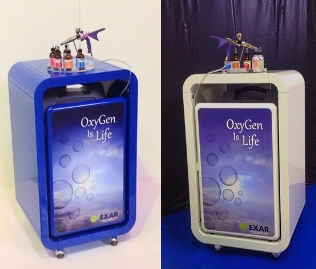 Hyaluroxy Skin - oxygen, biotechnological cosmetics and herbal cosmetic for professional oxygen facial protocols.

HYALUROXY SKIN is an oxygen jet beauty device delivering through a special sprayer nozzle oxygen together with low molecular weight hyaluronic acid and natural cosmetics, in integrated protocols using different hyaluronic acid serums and herbal products. This oxygen beauty solution is Italian design, Italian manufacture, Italian cosmetics and American oxygen concentrator. Nothing else to offer professional oxygen beauty facials in your beauty center.

HYALUROXY SKIN means 3 ingredients: design, technology and cosmetics.
Technology & design: a stylish Italy designed and made oxygen concentrator holder hosts inside a powerful 6LPM oxygen concentrator, while on the top you find OxyGun, the oxygen sprayer nozzle to make specific antiaging beauty oxygen treatments for wrinkles, dull skin, problematic complexion.
Professional natural and biotechnological cosmetics: a kit of cosmetics studied for oxygen facials, including concentrated hyaluronic acid serums and natural skin care cosmetics.
Everything to offer professional oxygen facials, with customized protocols for different aged clients.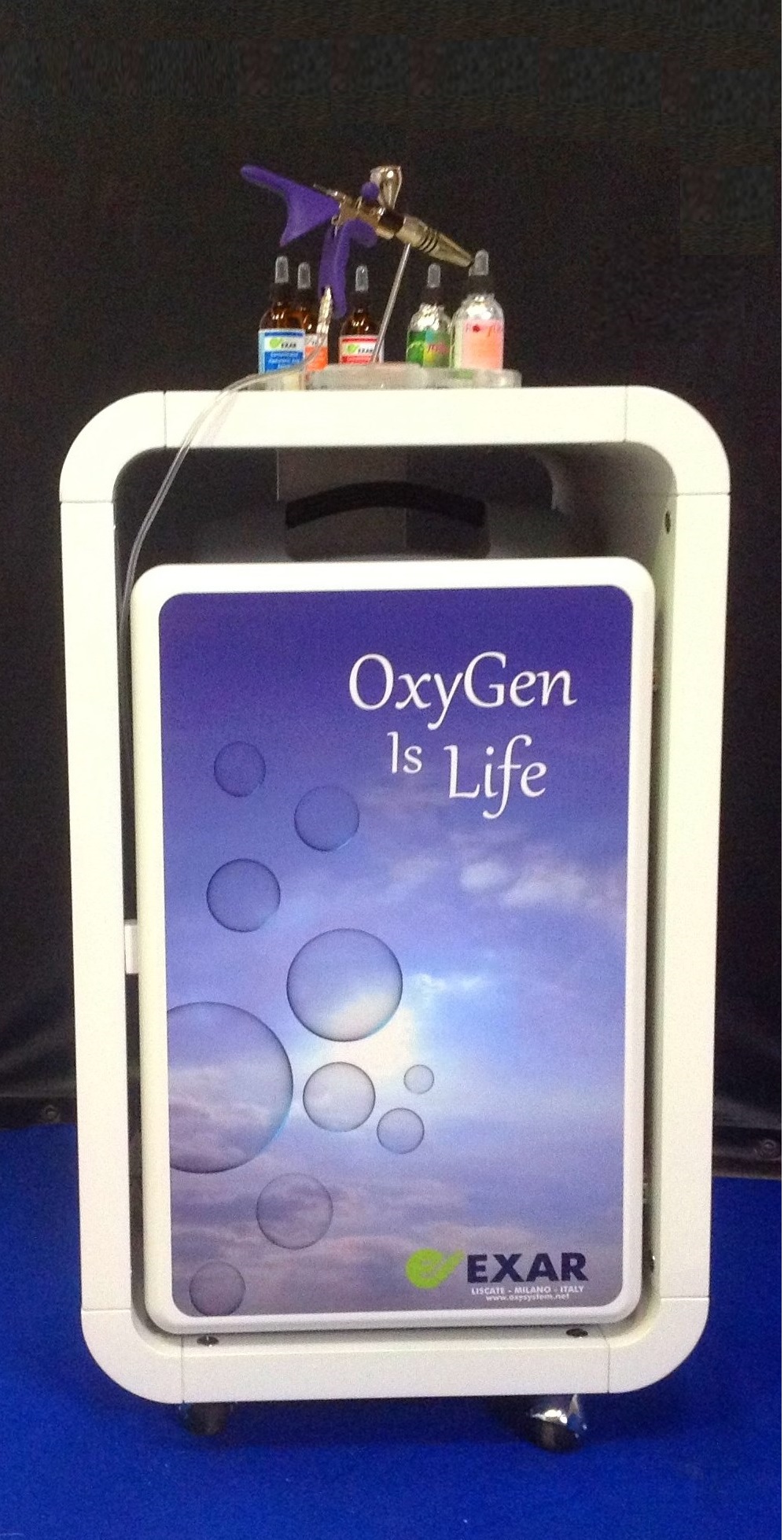 The first important step of each treatment consists in spraying oxygen (oxygen jet function) together with concentrated low molecular weight hyaluronic acid, followed by spraying oxygen and special herbal cocktails solved in wheat grass extract, a nourishing antioxidant plant.

HYALUROXY SKIN works on three levels.
It supplies oxygen because after the skin is the first organ of the human body loosing oxygen while getting older and, consequently, much of its vitality and tone.
It uses concentrated hyaluronic acid serums, applied by hand or nebulized with oxygen according to their different molecular weight. A not-invasive way to work on different skin layers, enhancing a fresh look and a good moisturization, preventing wrinkles and making ageing sign gradually less visible (always thanks to the improved mositurization).

It uses herbal natural cosmetics (tonics and cream-gels) for an antioxidant antiageing and nourishing action. Hyaluroxy Skin's facials help to prevent and fight age related problems such water loss, elasticity loss and dull skin.