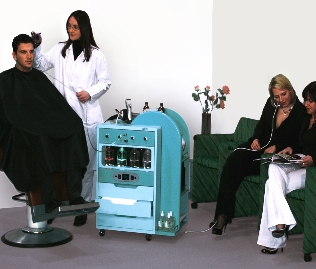 O2los - 3 times oxygen in one unit. For hair, skin and wellness.
Italy designed and Italy made, this multifunctional beauty device offers 3 natural oxygen-based functions: oxyhair for specific rich not-invasive hair treatments, oxyskin to take care of different skin problems with natural oxygen facials and body treatments, oxyaroma to help relaxation by inhaling aroma-enriched oxygen.
Professional and handy, O2los can be used even with two clients per time: for instance while a person is enjoying an oxygen hair care treatment, a second client can breathe aroma enriched oxygen while she/he is in queue for the shampoo at the hair salon.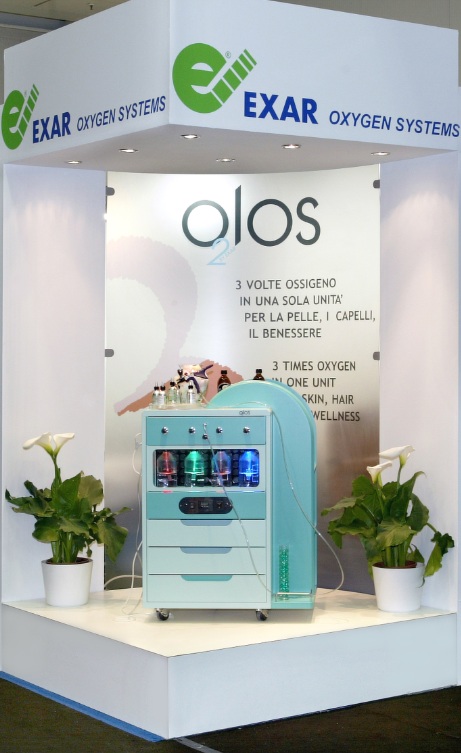 Here is o2los: a compact unit on wheels hosting 3 oxygen-based systems by Exar
• Oxyaroma, with 4 aroma blends to inhale
• Oxyhair, with 3 preparations for hair and scalp
• Oxyskin with 6 cocktails, 1 spray and 2 jo line oils for skin treatment.
Inside: a 6 liters/minute oxygen generator.
Outside: compartments, shelves and drawers.
In less than 1 m2, an island of oxygen, vitality and pleasure.
The oxyhair function helps to clean, nourish, oxygenate the scalp, it helps to stimulate and re-mineralize weak distressed hair, to normalize the sebaceous secretion, to fight hair loss while helping natural hair growth. Each oxyhair program includes 3 steps with studied hair preparations: a shampoo, a mud and a lotion to be sprayed on the scalp together with oxygen.
The oxyskin function let you cope with different skin blemishes, fighting skin ageing, promoting skin health and beauty. Using the OxyGun oxygen jet you can spray oxygen on the tissue, driving into the skin together with pure oxygen natural cosmetic, based on fresh wheat grass and other specific natural precious ingredients. Among the O2los oxygen facial and body treatment you find: the regenerative facial, the anti-wrinkle facial, the anti-acne protocol, the firming breast treatment and the heavy puffy calves & feet treatments. For fresh gentle beauty sessions that leave their mark.
The oxyaroma function let you enjoy breathing aroma-enriched oxygen, choosing among 4 aroma blends made of pure essential oils. Stress, smoke, sedentary lifestyle, wrong diet and overweight reduce our capacity to absorb and use properly oxygen, while our need of oxygen does not decrease.